Legal Industry Leads In Transgender Policies: Is Your Workplace In Compliance?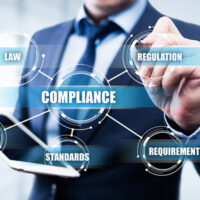 According to the Human Rights Campaign, which publishes a national survey titled the "Corporate Equality Index," law firms are amongst the highest rated workplaces for LGBT equality. While the percentage of LGBT lawyers is currently highest at large law firms, experts estimate that it will also likely increase in moving forward. Arguably because they tend to be more familiar with legal requirements, labor and employment law firms tend to adopt transgender policies more quickly than other workplaces.
When they adopt these policies, employers make it clear that they do not intend to discriminate based on gender identity (i.e. sex discrimination). Proactive policies tend to include guidelines for managers and employees when it comes to certain issues, including names on business cards, the appropriate pronouns to use, restroom usage, medical coverage, leave policies, appearance codes, and more. Some firms also include health insurance plans which cover gender reassignment surgery, medications, and counseling, as well as access to gender-segregated facilities and Equal Employment Opportunity and Anti-Harassment Policies.
Litigation In Favor Of Plaintiffs
These employers are taking the smart route to avoiding litigation: there have been lawsuits against employers after health insurance plans refused to cover certain types of gender-based surgeries as a form of discrimination based on sex.
For example, one employer settled a transgender lawsuit in May, and as a result, the employer now covers transgender surgery in its health insurance plan. In this case, after the employee underwent surgery, her employer (a library) settled the litigation, and under the terms of the agreement, changed its healthcare plan to include transgender surgery and other medical care for transgender people. It also implemented various other important changes, such as continuing to rely on gender-neutral employment forms, offer gender-neutral restrooms, and engage in employee training on LGBT inclusion.
Unfortunately, this employer is not alone: Other employers have faced lawsuits for denying insurance coverage for sex-reassignment surgery and other medical treatment, and have since settled these cases as well.
Florida Employment Discrimination Attorney
Employers all over the country should take note that denying medical care for transgender employees is unlawful and arguably constitutes discrimination on the basis of sex. These claims are brought as civil rights complaints for sex discrimination in violation of Title VII of the Civil Rights Act of 1964, sex and transgender status discrimination in violation of the Equal Protection Clause of the Fourteenth Amendment, and sex discrimination in violation of the Patient Protection and Affordable Care Act.
At the law firm of Robert S. Norell, we represent victims of state and federal discrimination activities in workplaces throughout Florida. With over 20 years of experience working to ensure that employees feel safe in their workplace, we've seen every form of workplace discrimination, and we're prepared to help ensure that your employer is following the law. Contact us today for assistance with your employment law issue.
Resources:
bol.bna.com/legal-industry-leads-in-transgender-policies-for-employees/
cincinnati.com/story/news/politics/2017/05/15/library-settles-transgender-lawsuit-now-covers-transgender-surgery/101512662/
sfgate.com/bayarea/article/Transgender-employee-Dignity-Health-settle-11108011.php