Justice Department Departs From EEOC on Sexual Orientation Discrimination in the Workplace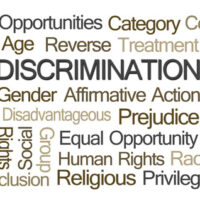 On July 27th, the Justice Department took a step backwards by arguing—in filing an amicus brief—that the federal civil rights law (Title VII) does not protect employees from discrimination based on sexual orientation, strangely inserting its opinion into a New York federal case that was otherwise a private dispute between one worker and his employer.
The case involves a skydiving instructor—Donald Zarda—who was fired after his employer found out he was homosexual. Under the guidance of Attorney General Jeff Sessions, the Justice Department inserted its voice into the case, indicating that it had a substantial and unique interest in the "proper interpretation of Title VII." In its amicus brief, it argued that it should be up to Congress, not the courts, to add a very specific sexual-orientation provision to Title VII.
Title VII Protections
Title VII bars discrimination in the workplace based on race, color, religion, sex, or national origin. Many—including the last administration—interpret "sex" to cover sexual orientation and gender identity. Notably, the Justice Department filed its brief arguing on the contrary on the very same day that President Trump announced that transgender people would be banned from serving in the military.
EEOC's Decision
The Equal Employment Opportunity Commission (EEOC) issued a very different opinion two years ago, finding that workplace discrimination on the basis of sexual orientation is illegal under federal law. Although federal courts are not technically bound by the recommendations of the EEOC, they typically defer to these types of agencies for expertise on laws that come under their jurisdiction. The EEOC also filed court papers in this recent case supporting Zarda.
This came one year after previous attorney general Eric Holder issued a memo in 2014 stating that, in any litigation that came before it, the Justice Department would support that Title VII protections extended to a person's gender identity, including transgender status.
What about the States?
Fortunately, some states have their own laws banning bias in the workplace based on sexual orientation. Unfortunately, Florida law does not address discrimination on the basis of sexual orientation or gender identity in employment. However, several cities and counties have enacted anti-discrimination ordinances. Fort Lauderdale is one of several cities that prohibit discrimination on the basis of sexual orientation.
Florida Employment Discrimination Attorney
At the office of Robert Norell, we represent employees who have been discriminated against in the workplace throughout Fort Lauderdale and surrounding areas of Florida. We have over 20 years of experience and a focus on employment and labor law, and we understand what it means to be the victim of discrimination at work–something no one should have to experience. If you've been discriminated against in the workplace, contact us today to find out how we can help.
Resources:
nytimes.com/2017/07/27/nyregion/justice-department-gays-workplace.html
nytimes.com/2015/07/18/business/us-agency-rules-for-gays-in-workplace-discrimination.html