Army enlistee recovers $50,000.00 for damages and lost wages due to military discrimination and gets her job back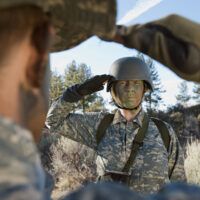 In this case, the client worked as a youth care specialist and recovered $50,000 in lost wages and liquidated damages as a result of being terminated for coming back 3 days late from her 6-month military leave. The client informed her employer that she enlisted in the United States Army and would be leaving for training. The client's direct supervisor was very upset that she enlisted because the employer was short staffed and in need of more youth care specialists. One of the client's supervisors made this very clear to the client, even leaving her a nasty voicemail to communicate her disapproval. Another one of the client's supervisors told her that she needed to choose between her job and the military. Both of the client's supervisors' reactions were in violation of the Uniformed Services Employment and Reemployment Rights Act (USERRA), which prohibits discrimination on the basis of one's military status.
The employer had a policy that subjected employees to termination for three or more days absence without calling. Because the client was fulfilling her military obligations, she was not able to communicate with her employer to let them know that her leave was lasting longer than expected. When the client returned from her deployment a few days later than what the original orders required, she was terminated because she did not report back within 3 days from the end of her original leave request. USERRA allows an employee who returns from military leave of more than 180 days up to 90 days to return to work once the leave is over. The employer's no-call-no-show policy cannot trump federal law (USERRA). Not only did the client receive money damages, but she was also reinstated to her job. If you have enlisted in the U.S. military and have been retaliated against or terminated by your employer, you may be entitled to your lost wages, liquidated damages, reinstatement, and attorney's fees. Please call employment attorney Robert S. Norell for a free case evaluation.