Will Overtime Pay Disappear Soon?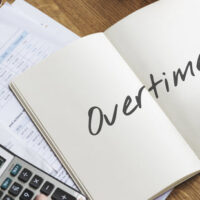 In May, the U.S. House of Representatives passed a bill that could result in employees feeling pressured to give up their right to overtime in exchange for "comp time," or compensatory time off. The legislation—titled the "Working Families Flexibility Act of 2017"—still may not pass the Senate, as Democrats have gone on record stating that it denies workers their rightful pay. Regardless, it's important to be aware of.
FLSA & Overtime versus Compensatory Time Off
Once the Fair Labor Standards Act was passed in 1938, it was illegal for private employers to offer compensatory time off instead of overtime pay (although the public sector has been able to legally provide compensatory time in lieu of overtime).
New Legislation
The legislation claims that it places the control of whether to accept comp time in place of overtime in the hands of the workers. The bill also mandates that employees must have worked at least 1,000 hours for the employer in the preceding 12 months in order to be eligible for the compensatory time, and could not accumulate more than 160 hours of compensatory time off in general and reportedly allows for employees to be paid instead of earning the time off if they change their minds, in which case they would need to be paid within 30 days of making a request at the overtime rate of pay. In addition, if the employee leaves, compensatory time off would have to be paid at the overtime rate.
However, one questions just how much choice the employee has when placed in a situation whereby their employer wants the employee to accept the comp time "deal" and most states (including Florida) are at "at-will" employment states, arguably making it easy for any employer to fire an employee for failing to enter into such an agreement.
The Importance of Overtime Pay
For obvious reasons, it would be difficult for many workers and their families if overtime hours each week resulted in hours to be used at a later date in lieu of overtime pay. Many people only work overtime so that they can afford to feed themselves and their families. For many, it is the one thing that keeps them from living below the poverty line.
Unpaid Wages, Exemptions & Employee Misclassifications
Any work performed over 40 hours in a week should be paid at time and a half (or one and one-half times the employee's regular rate of pay), For many, that is your right, by law. If you have been unjustly denied overtime pay, we can help. Florida overtime attorney Robert S. Norell stands up for the rights of workers and helps them get the compensation they are entitled to by law. Contact us today for a free case evaluation.
Resources:
congress.gov/bill/115th-congress/house-bill/1180/text
richmond.com/business/learning-center/labor-law-house-passes-legislation-allowing-employees-to-take-comp/article_8e39a0c4-75b3-5ef7-aaa1-a61b55383df6.html