Jury Awards $2.5 Million after Alleged Retaliation for Reporting Sex Discrimination in the Workplace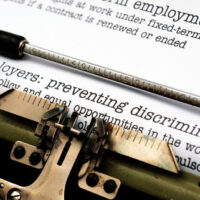 On February 9th, a jury awarded a former university employee (Michele Coyle) $2.5 million after finding that university officials violated state law for firing her after for allegedly reporting allegations of sex discrimination against women.
Specifically, after serving as chief campus counsel for six years, Coyle reported that she and other women were subjected to rampant gender discrimination by the university's executive vice chancellor, who blatantly favored men for promotions and salary increases, misreported on the differences between salaries based on gender for the federal audit, refused to accommodate women with children, and labeled women who requested raises, amongst a myriad of other labor law violations.
The Case
In addition to the above-mentioned allegations, Coyle documented additional discriminatory and harassing conduct directed by and involving the executive vice chancellor, such as expressing (in public) his desire to rid the campus of any remaining senior female administrators appointed by his (female) predecessor, directing staff members to suppress data on gender-based salary differences, refusing to approve funding requests for data gather on salary inequities, threatening Coyle if she sought to obtain funding elsewhere, and ridiculing federal initiatives discouraging bullying and discrimination in the workplace. The complaint details an environment which fostered and encouraged an "old boys' club mentality," where several officials regularly made sexist comments towards female coworkers in the workplace, purposely overlooking them for promotions to leadership positions, and told any woman who complained that they would likely be "better appreciated elsewhere."
One specific incident involving an employee is especially relevant in highlighting the egregious violations involved here: When one female administrator made an employment-related request based on her serious medical condition (which complicated the care provided for her two small children), the executive vice chancellor allegedly responded that women with small children should not be working and should not expect accommodation in the workplace. As a result, the female administrator left her position.
According to the complaint, when this behavior was reported to the Chancellor, instead of taking action on the complaints of discrimination—or even minimally investigating them—Coyle was, instead, fired less than one week before a federal audit was to be conducted concerning the university's compliance with equal opportunity laws. In the case, Coyle claims that this was due to her opposition of whitewashing the facts behind the university's discriminatory practices; specifically informing those officials that she intended to disclose these discriminatory practices in connection with the pending federal employment audit. As a result, the jury found that university officials involved violated state labor code and the Fair Employment Housing Act.
Employment Discrimination & Retaliation Attorney
Robert S. Norell, P.A. is dedicated to protecting victims in labor law disputes in Florida. With over 20 years of experience in this field, we've seen every type of discrimination and retaliation case out there, and we know you likely have many questions. Contact us today for a free case evaluation and we'll provide you with guidance on the next steps you can take to ensure that your rights are protected.
Resources:
latimes.com/local/california/la-essential-education-updates-southern-jury-awards-2-5-million-to-former-uc-1486607974-htmlstory.html
documents.latimes.com/gender-discrimination-complaint-against-uc-riverside/