Case May Provide Transgender Employees with Legal Protections under the ADA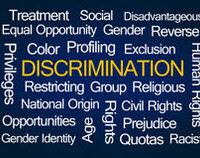 A federal judge in Pennsylvania recently ruled that a transgender employee may have rights under the Americans with Disabilities Act ("ADA"). While whether or not transgender employees are entitled to legal protections under Title VII of the Civil Rights Act ("Title VII) still remains undecided in the courts, this case may prove to be beneficial to protecting transgender employees from employment discrimination.
The case involved a transgender employee who sued gear retailer Cabela's, asserting both discrimination claims under Title VII and the ADA, as well as claims that her employer failed to provide reasonable accommodations for her disability under the ADA.
Gender Identity Disorder & the ADA
The plaintiff/employee in this case suffers from gender dysphoria, also known as gender identity disorder, which limits her major life activities like occupational functioning. The ADA protects those who suffer from mental or physical disorders that impact major life activities. While Congress expressly excluded certain conditions (one of them being general identity disorder), still, courts have found that legislation sometimes violates equal protection rights if it has a discriminatory effect.
In this case, the court found an issue with the gender identity disorder exclusion because while one can interpret gender identity disorders to refer to the condition of identifying with a different gender, this does not necessarily also cover any disabling conditions that might be associated with the condition. This is especially relevant to the case at hand, where the plaintiff's gender dysphoria limits her major life activities, including occupational functioning (amongst others). According to the court, because this interpretation allows the court to avoid violating the various constitutional issues at hand in the case, it is the interpretation that the court must adopt.
Next Steps
We will be following this case as it proceeds. At this stage, the court has simply ruled against Cabela's motion to dismiss (i.e. that the plaintiff's condition is not excluded by the ADA), thereby allowing the case to move forward and be heard on the merits. The case will proceed on both the ADA and Title VII claims and go to trial unless Cabela files an interlocutory appeal at the federal circuit court level to have a specific legal issue resolved. In fact, it is entirely possible that this legal argument will eventually be decided by the U.S. Supreme Court (unless the ADA is first amended in Congress).
Employees deserve both clarity and protection when it comes to their legal rights. Employers have an obligation to develop policies so as to ensure that no employee suffers from discrimination or harassment, regardless of what is decided in this particular case (especially as to the Title VII claims).
Florida Employment Discrimination Attorney
At the office of Robert S. Norell, we regularly represent employees who are victims of employment discrimination in state and federal actions throughout Fort Lauderdale and surrounding areas of Florida. With over 20 years of experience and a focus on employment and labor law, we know what you are experiencing if you've been discriminated against in the workplace. Get in touch with us today to find out how we can help.
Resource:
richmond.com/business/learning-center/labor-law-transgender-employees-may-have-rights-under-the-ada/article_cc3e893f-8482-518b-92e0-8e17b47c0d8c.html