Survey Indicates That Job Discrimination Is Getting Worse For Young African Americans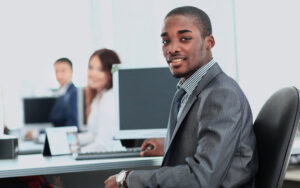 Recent survey results released by GenForward and gathered by the University of Chicago and Black Youth Project indicate that 48 percent of African Americans between the ages of 18 and 30 years old have experienced job discrimination–either during the application process or in performing the job itself. The issue is even more severe for African American women, unfortunately, who not only experience racially-related job discrimination, but wage inequality in addition.
Several individual accounts that accompanied the survey results revealed disturbing experiences: individuals being told that they needed to "straighten their hair" and take on a more "European" appearance in the workplace. While many would likely believe that we are, in general, moving towards progress, in fact, global statistics reveal a very different reality: specifically, that there has been a 49 percent increase in the number of black Britons who are unemployed, and a two percent decrease in the number of unemployed whites.
The Law in Florida
Under Section 2000e-2 of the Civil Rights Act of 1964 (Titles VI and VII), it is unlawful for an employer to fail to hire, refuse to hire, or to discharge any individual or discriminate with respect to compensation, privileges, or related issues due to their race, color, religion, sex, or national origin. It is also illegal to limit, segregate, or classify employees or applicants which would result in said individuals being deprived of any employment opportunity or otherwise having their status adversely impacted as an employee due to race, color, religion, sex, or national origin.
Not only is it illegal under federal law to discriminate against someone when it comes to employment, but Florida law makes it unlawful for any employer to discharge or refuse to hire someone (or otherwise discriminate against them) with respect to compensation, terms, conditions, privileges of employment, etc. due to their race, color, religion, sex, pregnancy, national origin, age, handicap, or marital status. This includes any activities which result in classifying employees or applicants for employment in such a way as to deprive them of opportunities and rights based on those same factors. This same policy applies not only to employers but also employment agencies, labor organizations, joint labor-management committees, and related professional associations.
There are additional laws in place to address equal pay issues, where employees or applicants may be denied equal compensation for the same work due to their sex. The law explicitly addresses various acts related to sexual discrimination, such as wage issues, hiring, promotions, job classifications, training, benefits, etc.
Florida Employment Discrimination Attorneys
If you or a loved one has experienced job-related discrimination, we can help. Robert S. Norell has been representing people in state and federal employment discrimination actions throughout the greater Fort Lauderdale area for over 20 years. Our employment discrimination attorneys have helped many job applicants and employees obtain justice after experiencing discrimination. Contact us today to find out how we can help you.
Resource:
genforwardsurvey.com/assets/uploads/2016/10/Discrimination-and-Advantage-1.pdf