Pregnancy Discrimination Cases in the Workplace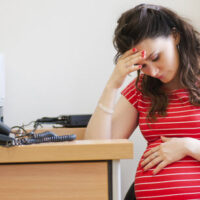 What does pregnancy discrimination look like? Surely employers do not tell a job applicant (outright) that they aren't being hired due to their pregnancy—or a current employee that their job is in jeopardy due to their pregnancy?
Pregnancy discrimination—like many other forms of employment discrimination—doesn't tend to rear its ugly head in such a straightforward fashion, as highlighted by a recent case involving a fitness company.
The Law
The Pregnancy Discrimination Act is an amendment to Title VII of the Civil Rights Act of 1964 and prohibits discrimination based on pregnancy, childbirth, or any related condition. Specifically, it states that women affected by pregnancy, childbirth, or related medical conditions shall be treated the same for all employment-related purposes, including receipt of benefits.
The issue was highlighted two years ago by a case that went to the U.S. Supreme Court concerning an employee who was denied accommodations by her employer UPS due to her pregnancy. Although pregnancy is not defined as a "disability" under the Americans with Disabilities Act, the Pregnancy Discrimination Act affirmatively dictates that pregnant employees receive the same benefits as everyone else in the workplace who is similar in their ability or inability to work. The Act also requires employers to ensure that they do not deny pregnant employees opportunities due to their pregnancy and provide the same accommodations that others receive (for example, an employee whose workload has changed due to an injury).
It is also important that employers comply with the Family Medical Leave Act, which entitles employees to take unpaid, job-protected leave for family and/or medical reasons while continuing to receive their same health insurance coverage. The law specifically provides for 12 workweeks of leave in a one-year period.
The Case
According to the Equal Employment Opportunity Commission (EEOC) in the recent fitness company case, the company allegedly asked a job applicant to complete new-hire paperwork after her second interview, and then proceeded to discriminate against her after she informed the company that she was 35 weeks pregnant. Specifically, after the candidate provided notice concerning her pregnancy, the company failed to schedule her to work and, in fact, cut off all communication with her. After hiring two other people, the company manager then proceeded to inform her that the position she'd been hired for had been put on hold, but that she could apply for a position at a sister facility later that year.
As a result of bringing a discrimination case, the company agreed to pay the employee $86,000 in compensation and entered into a consent decree agreeing to revised its internal policies and conduct training, as well as report to the EEOC regularly concerning compliance.
Pregnancy Discrimination Attorney
If you feel you've been discriminated against due to your pregnancy, contact Florida pregnancy discrimination attorney Robert Norell today to receive a free case evaluation regarding your rights.
Resources:
richmond.com/business/learning-center/labor-law-pregnancy-discrimination-a-slippery-slope/article_9caf18b3-9caa-5877-9538-2546e656ff7f.html
eeoc.gov/laws/statutes/pregnancy.cfm