New EEOC Guidance on Unlawful Retaliation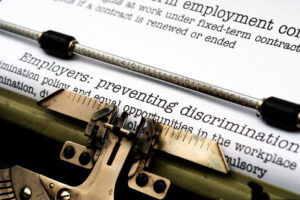 Employment discrimination can come in many forms. While you may think that harassment or wrongful termination may be the primary forms of unlawful discrimination in the workplace, the Equal Employment Opportunity Commission (EEOC) reports that the most common form of discrimination is actually retaliation. In fact, retaliation is reportedly a part of nearly half of all discrimination complaints.
Recently, the EEOC released new information that provides updated guidance on retaliation in the workplace. This is the first update to the agency's guidance on retaliation in almost 20 years and every employee should be aware of their rights against retaliation. The following are only some of the basic questions addressed by the new guidance document.
What constitutes retaliation?
Unlawful retaliation happens when an employee exercises a right under anti-discrimination laws and the employer takes an adverse action against that employee because of the protected activity. In addition, it can be considered retaliation if an employer discourages employees from exercising their rights.
What is protected activity?
Activities that cannot be retaliated against include the following:
Complaining about discrimination or stating you plan to complain;
Cooperating with an investigation into discrimination or harassment;
Intervening in discrimination or harassment of others for their protection;
Requesting an accommodation (when reasonable) for religious beliefs or disabilities;
Complaining about disparity in pay among genders;
Talking to coworkers about discriminatory or harassing actions or gathering information;
Opposing discrimination or harassment or passively allowing others to oppose such behavior.
Applicants also may not have discrimination complaints at previous employers held against them in the hiring process. In addition, an employee is protected from retaliation even if their complaint or action involved discrimination against an employee other than themselves.
What actions are considered to be "adverse?"
Adverse actions can include any action that could deter employees from exercising their rights. There are many different types of adverse employment actions that may constitute unlawful retaliation, including:
Refusal to hire;
Denial of a raise or promotion;
Discipline, demotion, suspension, or termination;
Transfer to a less desirable job assignment or department;
Reprimands or threats by a supervisor;
Unwarranted negative evaluations or performance reviews;
Making false reports about an employee;
Removing duties or responsibilities.
In order to prove a retaliation claim, an employee must show that the adverse action was in response to their protected activity. If the adverse action was due to poor job performance or attendance issues, for example, a retaliation claim may not be possible or appropriate.
What are remedies for retaliation?
In a retaliation claim, an employee can get the EEOC to stop any further retaliation, can seek financial compensation for lost income and other losses, and possibly punitive damages if the retaliation was particularly egregious.
Contact a Florida Employment Attorney for Assistance Today
Every employer should be well aware of the rules against retaliation and every employee should watch for signs that unlawful retaliation has occurred. If you believe that your employer wrongfully retaliated against you, please call to discuss your case with Florida wage and employment lawyer Robert S. Norell as soon as possible. Call 305-405-9243 for help.
Resources:
eeoc.gov/laws/types/facts-retal.cfm
eeoc.gov/eeoc/newsroom/release/8-29-16.cfm