New Study Demonstrates Startling Levels of Sexism in University Departments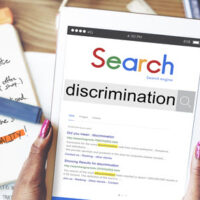 A new thesis released on the impact of gender discrimination in the field of economics has led to an important conversation about a workplace culture that is characterized as exhibiting outright hostility towards women in the economics profession. While the underrepresentation of women in top university departments like economics has already been well-documented, until now, it has been difficult to evaluate such claims because they rarely occur out in the open.
The Results
The study—titled "Gender Stereotyping in Academia: Evidence from Economics Job Market Rumors Forum"—is based on an online forum that serves as a place for economists to discuss employment in the field. Researchers found a startling pattern, which included the following:
The 30 words most uniquely associated with discussions of women included: hotter, lesbian, baby, sexism, marrying, feminazi, hot pregnant, pregnancy, cute, marry, levy, gorgeous, crush, beautiful, secretary, dump, shopping, date, nonprofit, intentions, sexy, dated, and prostitute, and other sexist terms. On the contrary, the study found that the most common words associated with men were relevant to economics, and included: adviser, Austrian, mathematician, pricing, textbook, and Wharton (the University of Pennsylvania business school). In other words, discussions about men were more likely to be associated with the topic of economics itself and professional advice in general, while discussions of women were more likely to be associated with topics relating to personal information, physical attributes, and/or gender-related terms.
One macroeconomist called the results reflective of "a cesspool of misogyny." While rumors like those on the forum haunt many professions, they become damaging when they end up ruining careers. Unfortunately, with this particular forum, the targets are typically female students.
Although reflecting of a sentiment that most female economists are already very familiar with, the study's findings are the first to quantify the sentiment.
Gender Discrimination Litigation against Universities
Economics departments are not alone in featuring the issue of gender discrimination: In March of this year, the University of Oregon was sued by one of its psychology professors, who claimed that she had been paid substantially less than several of her less-experienced male colleagues. Specifically, her sex-based discrimination allegations were brought under the federal Equal Pay Act.
In addition, in February, the University of Virginia was sued for gender discrimination and violating disability law by an assistant vice provost at the school. Similarly to the lawsuit in Oregon, the plaintiff claimed that she had been paid less than her male counterparts, and that she was retaliated against after she complained about the situation (as well as taking medical leave).
Florida Employment Discrimination Attorney
If you or someone you know has been the victim of gender discrimination in the workplace, you should consult with an employment discrimination attorney right away. Robert S. Norell has represented victims in state and federal employment discrimination actions throughout the greater Fort Lauderdale area. To discuss any employment law issue, contact us today at 954-617-6017 or online for assistance.
Resources:
nytimes.com/2017/08/18/upshot/evidence-of-a-toxic-environment-for-women-in-economics.html?hpw&rref=business&action=click&pgtype=Homepage&module=well-region&region=bottom-well&WT.nav=bottom-well
usnews.com/news/best-states/oregon/articles/2017-03-22/uo-professor-sues-school-over-gender-discrimination
dailyprogress.com/news/local/uva/uva-official-alleges-gender-discrimination-in-lawsuit/article_24b2feda-f3b9-11e6-ae2d-5b7a69a88023.html