Ensuring Protected Coverage under the Family Medical Leave Act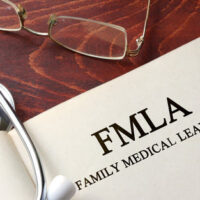 The Family Medical Leave Act (FMLA) was designed to allow employees access to protected leave—not just for the purpose of expanding your family—but also, for example, to take extended, continued leave for medical reasons or to take care of a family member. However, the law comes with requirements, and it is important to ensure that your follow these requirements to a T in order to protect your job.
The Law
The FMLA provides job-protected (but unpaid) leave for both qualified and family reasons such as a personal or family illness, pregnancy, adoption, foster care placement, or family military leave. It allows eligible employees (those who work for an entity that employs 50 or more people) to take up to 12 weeks of unpaid leave each year as long as the employee has been working there at least one year and has worked at least 1,250 hours.
In addition, some employers also have policies in place which allow for employees to request additional unpaid time off once their time under the FMLA has been exhausted. This time typically has to be requested and granted consistent with specific company policy.
Documentation
However, without the proper documentation and employee can still be fired for taking family and medical leave, at which point they'd need to decide if they want to file suit under the Americans with Disabilities Act. This documentation must provide evidence indicating that being allowed additional leave in order to recover will allow the employee to perform the essential functions of their job (i.e. that their treatment and/or medical recovery will be effective). Medical documentation must be somewhat specific in explaining that the employee is receiving treatment and that treatment will likely be effective; In other words, it must demonstrate that if the employee receives additional leave, they will be able to return to work on a regular basis. It cannot appear that the employee is seeking an indefinite leave of absence.
Specifically, employers can require employees seeking additional leave beyond the requirements of the FMLA to provide the following specific information from their medical provider a description of:
The employee's medical condition, when it began, and how long it is expected to last;
The impact the medical condition will have on the employee's activities and/or abilities;
How the additional lave is a reasonable accommodation that will assist the employee in eventually performing their essential job functions;
The specific amount and type of leave necessary;
Any other reasonable accommodations the employee may need in order to perform the essential functions of their job;
Any treatment the employee is receiving and its likely effectiveness in terms of the employee eventually performing the essential functions of their job; and
Whether or not the employee will eventually be able to work regularly.
Therefore, you will want to work with an experienced attorney to ensure that you are ahead of performing these requirements in order to ensure that your rights are protected under the FMLA.
Florida Family Medical Leave Attorney
If you have questions related to taking leave under the FMLA, or your FMLA rights have been violated, contact us today for a free case evaluation. Florida attorney Robert Norell is here to help.
Resource:
richmond.com/business/learning-center/labor-law-leave-as-an-accommodation/article_fc6200d7-04d0-5451-903a-243a959f9e44.html